A fantastic collection of large men's jeans from Premier Man
If you're looking for big men's jeans in stylish and well-fitting sizes then you'll be impressed with the fantastic range we have on offer at Premier Man. From 27in to 33in inside legs we have a great choice of long and men's short leg jeans in lots of different styles. Including boot cut, straight leg and stretch, our large men's jeans offer an array of designs in distressed, dark wash and black among so many other denim colours.
Buy stylish and well fitting large men's jeans online now
Men's short leg jeans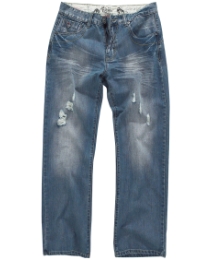 For short men
With 27in and 29in inside legs in the majority of our big men's jean you'll find we have a fantastic selection short leg lengths for smaller men. Men's short leg jeans come in lots of stylish design and are made for men with short legs. With so many styles now available within our men's short leg jeans you no longer need to compromise on style.
Long leg jeans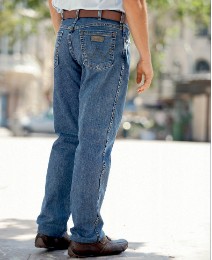 For tall men
Many tall men struggle to find stylish large men's jeans in longer lengths, but on our website you will find an array of stylish designs in all the latest trends. Our long leg jeans are designed with tall men in mind and go up to a 33in inside leg, catering for taller men. With our big and tall jeans you won't find it difficult to find well fitting jeans anymore.
Range of jeans styles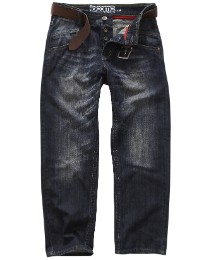 All stylish designs
Our range of large men's jeans covers so many different styles to suit all preferences. From popular boot cut and straight leg to comfort and stretch, you'll find lots of plus size men's jeans on our website up to a 64in waist and in various leg lengths for short and long legs. Whatever style of big men's jeans you're looking for, you'll certainly find it here.
Various denim colours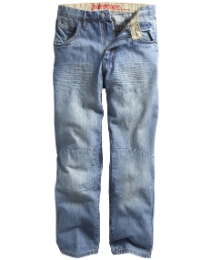 From light to dark
There are lots of different colours of denim within our large men's jeans collection from the very light to the very dark and everything in between. Perhaps our most popular big men's jeans are the worn and distressed jeans that are great for everyday casual wear. Many men like our dark wash and black large men's jeans that are a little smarter, while we also have other colours like grey and brown plus size men's jeans.
Large men's jeans from all the biggest brands
You'll find all of plus size men's jeans are from well-known brands like Joe Browns, Levis, Wrangler, Ben Sherman and so many more designer jeans brands.
At Premier Man we ensure that our large men's jeans are of the highest quality so you can be assured that will last and will fit you perfectly.
Lots of big men's jeans up to a 64in waist
At Premier Man we specialise in big men's clothing and that's no different with our large men's jeans, so you'll find an fantastic range of sizes to fit larger men. With waist sizes up to a 64in our big men's jeans cater for larger men, as well as those with different leg lengths from 27in to 33in inside legs. If you're looking for extra large jeans that you'll certainly find a great choice here.